Twice a month award-winning Psychic Mediums Seika & Athene will be offering FREE mini readings live across Zoom, FB & YouTube. The show will run 60 minutes and will answer questions and offer guidance to those who wish to participate.
Due to the popularity of the LIVE readings show Magic Northstar cannot guarantee that all questions will be answered during the course of the show. Questions submitted via email will be kept in the order received and you will be notified of the date of the upcoming show your question will be answered on.
If you wish to submit a question to be answered live please contact us here.
PLEASE READ THE FOLLOWING: On the contact form choose "Something Else" from the selections and leave your question in the message box with the title LIVE READING. You must fill out all contact info required in the form and will be contacted prior to the show to let you know what date your question will be answered on.
Sign up to our email list and join the FB group to be updated with the latest news!
Psychic Medium Bios

Seika's heritage is rooted in Old traditions. She is of Scottish, and Norse hertiage.
As a natural Intuitive & Medium Seika offers knowledgeable answers to life questions. Think of her as your personal guide to help find solutions regarding Relationships, Business, Money, Anxiety, Grief, Anger or any other areas of concern. As a caring and compassionate person, Seika's non-judgmental approach is something she offers to everyone; regardless of their background or beliefs. Her down to earth friendly personality makes her easy to talk to as she offers you her insight.
As a Psychic, she perceives, as a Medium she receives. Not all Psychics are Mediums and not all Mediums are Psychic, however, Seika is both. She considers Mediumship as one of the highest forms of healing often working with those in bereavement or those looking for answers. As an Intuitive, Psychic & Medium Seika is in partnership with spirit and a Master of her abilities connecting the living and Spirit in this world. As a frequent guest on radio and TV shows Seika speaks about her gifts as an Intuitive, a Psychic & Medium and of her experience in the Paranormal. She is a sought-after lecturer and is respected in her fields of expertise.
Seika also works with many clients around the world including China, the UK and the USA.
Athene Nocturne is a naturally gifted clairvoyant and caring, compassionate Leo who will connect directly to your energies offering insightful advice and information passed on to her by spirit. Athene can help shed light on your life questions in the areas of job, finance, relationship, or spiritual. Connecting to a higher celestial level compassionately she explores answers regarding your greatest concerns.
Born and raised in Devon, England, Athene uses her mind's eye to give valuable and precise advice. Born with clairvoyant and mediumship skills, the gift runs along the female line of her family. Continuing the tradition she speaks with honesty and clarity about her personal experiences and believes that her own near-death experiences as a child have brought her closer to the light – acting as a communication tool between the living and those who have passed.
Athene resides in upstate New York and has been recognized in her community for her intuition and detailed insight, ranging from the sex of babies, to working with professionals to aid clarification with cold case murders and locating missing money. Athene also volunteered for two local St. Lawrence County Paranormal Investigative teams and is respected within the paranormal field. Additionally, she has been invited to the St. Regis Mohawk reservation to offer live on-air psychic readings to its listeners and has won a number of awards for her abilities.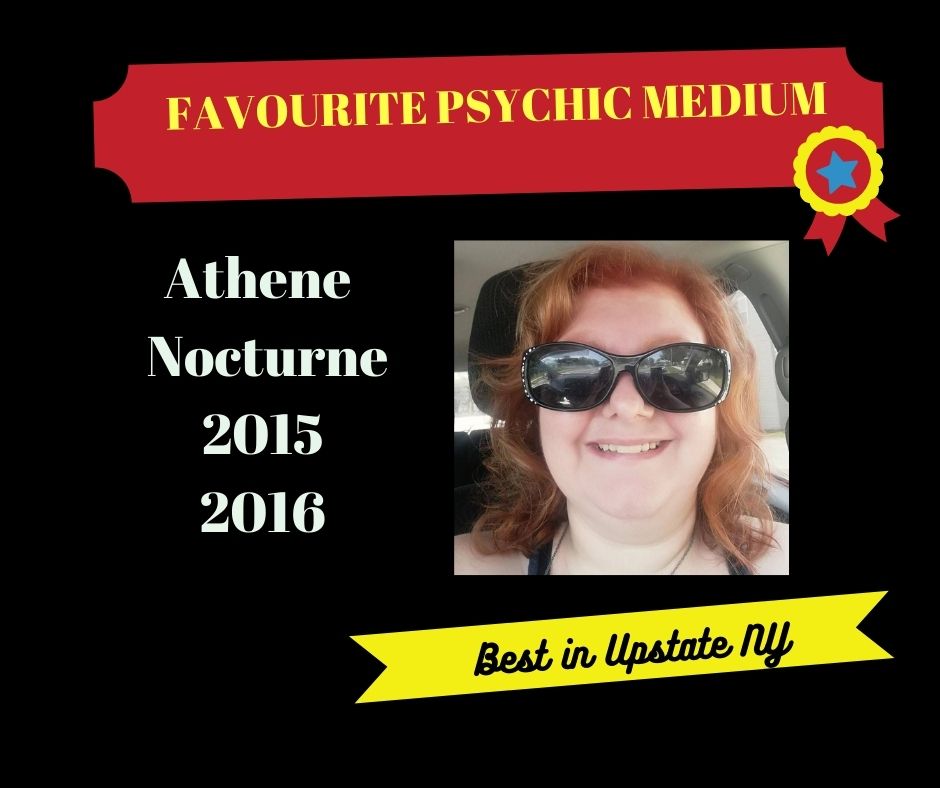 * All information shared with us is held in the strictest of confidence and will not be shared or sold. All consultations are given in the spirit of guidance and knowledge. We believe our advice to be of good and positive benefit – how you choose to apply that advice is your prerogative. The opinions of Magic Northstar and associated Mediums are their own and may not align with your personal, spiritual, cultural, financial or familial situation. While we may offer advice or direction, your choices are ultimately your own – we do not take any responsibility for your actions.